Sedona Hiking Tips and Information
Only by hiking can you really be touched by the magic of this place. It's no wonder the tales of energy vortexes permeate the lore of this area. There is both magic and majesty for you to explore in Sedona. Hiking is the perfect activity suited to any vacationer, as there are such a variety of trails for any level, from novice to adventurer. There are numerous trails to choose from, varying in length and difficulty, and most are interconnected, as the wonderful expanses of the Coconino National Park surrounds the city.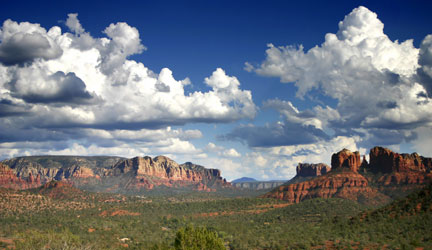 This incredible national treasure encompasses over 100,000 acres of red rock buttes and ponderosa pines. The park is very well maintained with clearly marked trailheads, parking facilities and hiking trail information readily available. One of the best things about hiking in Sedona is that most trails start right on the outskirts of town, so there is very little travel time to get started. However, there are parking fees if you bring a car, another good reason to check out Sedona Hotels with Hiking Trails; Kings Ransom Sedona Hotel, Kings Ransom Inn Sedona, and Enchantment Resort.
The year round moderate climate, with four distinct seasons and comfortable temperatures
allow nature lovers the opportunity to enjoy it non-stop.
In preparation for any hike, keep in mind you are in a desert climate and that some simple precautions should be taken to stay hydrated and be safe. A good pair of sneakers or hiking boots, plenty of water, sunscreen, a hat and a hiking partner are all recommended.
No matter what you do in Red Rock Country, you're always sightseeing. Hiking is just one of the ways to get even closer to all this scenery. You can also horseback ride, take a balloon ride, a jeep ride, slide down a natural waterslide at Slide Rock State Park, picnic, camp, or fish. Whatever you do, don't forget that camera! It's no wonder that Sedona is considered one of the most beautiful places in the world!